An Introduction Into SINIC: A Future Prediction Theory
Fifty years ago, Kazuma Tateishi, the founder of Japanese company Omron, debuted a future predicting theory called SINIC Theory. The theory has been quite accurate in its predictions—its startlingly accurate description of the information society far before the invention of PCs and the internet is a prime example. Although Tateishi passed away in 1991, his core philosophy of long-term thinking continues to bring Omron plenty of success.
Omron
Omron was founded in 1933 in Kyoto. The company's first product was an X-ray timer, invented by the founder, Kazuma Tateishi. Omron has always been led by the invention of new products, such as non-contact switches for factory automation, automated traffic signals, unmanned train stations, and automated cash dispensers—all of which were the first in the world.
Today, the company operates within four industries: Industrial Automation, Social Systems, Healthcare, and Electronic Components. Omron's net sales are up to 6 billion USD, and it currently employs around 30,000 employees worldwide.
As a public company, Omron demonstrates a very modern way of management. For example, it manages a business portfolio based on return on invested capital (ROIC) to engage with stakeholders. Omron also has well-structured corporate governance and has remained one of the leading companies in Japan. The current CEO took his role in 2011 after being tapped by the CEO Selection Advisory Committee led by a Supervisory Board member.
Principle-based management
Omron's management style is based on its principles. Its motto, "To improve lives and contribute to a better society," was coined by Tateishi following a 1959 visit to the US, where he was fascinated by all the latest technological progress he encountered—especially factory automation.
Tateishi took a deeper look to figure out the primary driver of most US companies. He concluded that it was a combination of the frontier spirit and Christian beliefs, which could not be imported or implemented in a Japanese company. So, he began work on an alternative for the company and came up with a mission after three years. That mission has remained at the core of Omron ever since.
Following a substantial shift towards principle-based management, SINIC Theory was announced in 1970, succeeding the core philosophy of "contributing to the society." It has since become a "Theoretical Compass."
Okay, so what is SINIC Theory?
SINIC theory was first presented at the International Future Research Conference in 1970 by Tateish himself, who was 70 at the time.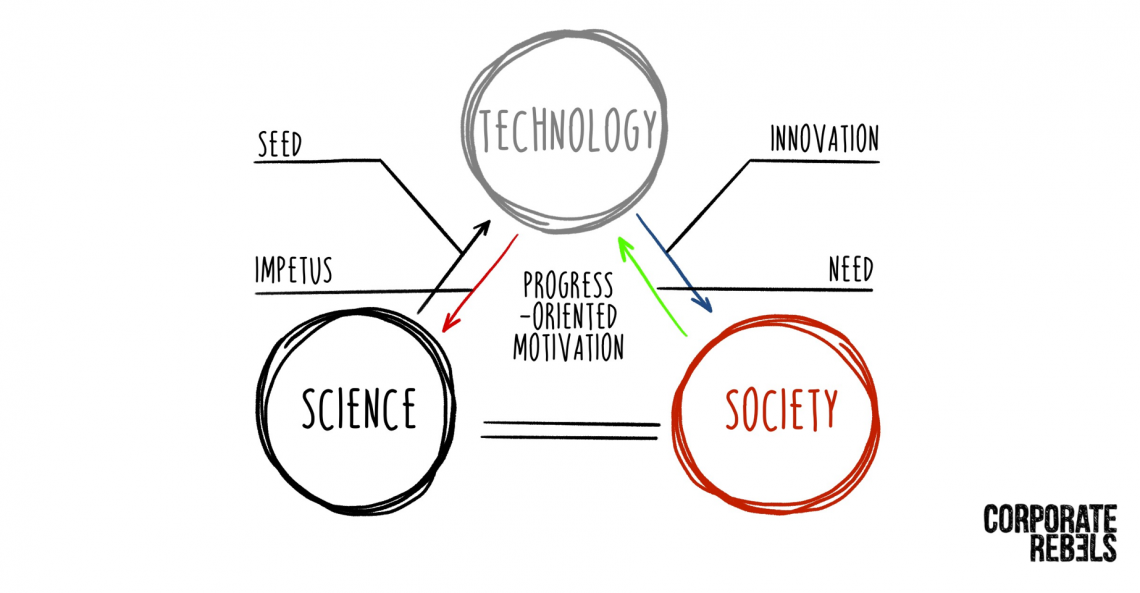 SINIC stands for Seed-Innovation to Need-Impetus Cyclic Evolution. According to the theory, science, technology, and society have a cyclical relationship. Scientific breakthroughs yield new technologies that help society move forward, and social needs spur technological development and expectations for new scientific advancement. These factors affect each other in a cyclical manner, thus propelling further social evolution.
SINIC theory describes the evolution of humanity in 10 stages, starting from the Primitive Society far back to 12M B.C.—when humanity started using fire, language, and bows and arrows—to the final Natural Society stage beginning in 2033.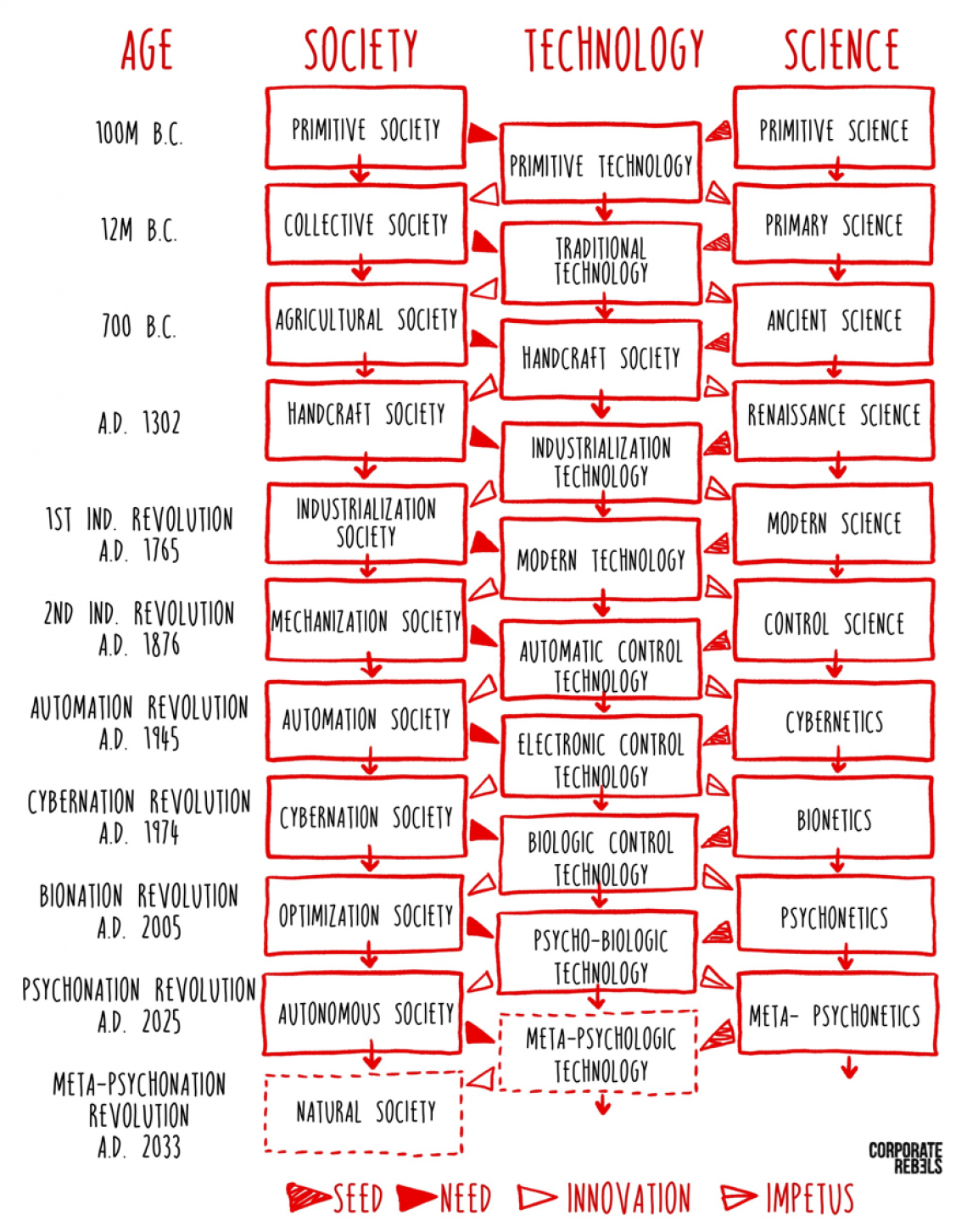 The theory shows that the world moved to the Industrialized Society on the foundation of a conventional Agricultural Society in the 14th century.
The Industrialized Society is divided into five stages:
1302 ~ 1765 Handicraft Society
1765 ~ 1876 Industrialization Society
1876 ~ 1945 Mechanization Society
1945 ~ 1974 Automation Society
1974 ~ 2005 Cybernation Society
According to SINIC Theory, the Optimization Society spans from 2005 to 2025. The theory says that through this society, humanity's desires would become diverse; therefore, the function and technology that enables finding and replicating the best options would be developed.
The Autonomous Society is the next stage, which is believed to span from 2025 to 2033. This stage is a shift from conscious control to non-conscious control. (Again, this is a theory first presented in 1970.)
At the core of the cyclical relation is the Progress-Oriented Motivation, which states that evolution is led by people with the will to facilitate progress in technology, science, and society.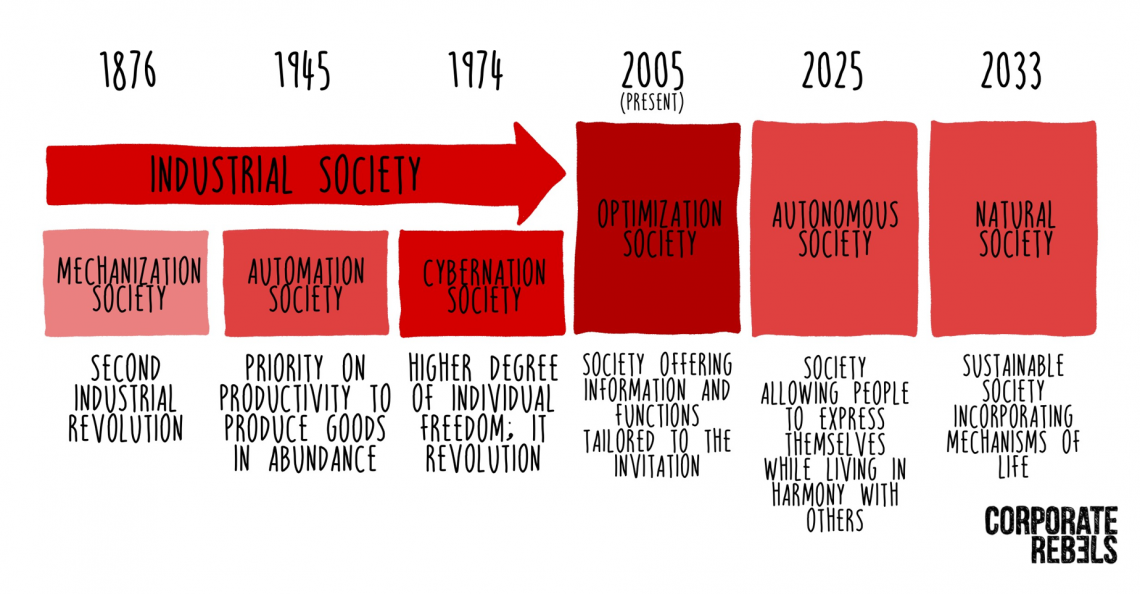 SINIC Theory as a "Theoretical Compass"
When SINIC Theory was first presented in 1970, it had a detailed and precise prediction for the next coming society (Cybernation). At the time, it was easier to connect to the company's business and R&D strategies.
But now that fifty years have passed, the theory is now utilized more as a Theoretical Compass for the company. It points to the direction of societal evolution, technology, and science, but it's up to the company to determine what it should work on—and how to do it.
Through the years, Omron has developed a way to join the modern way of management with the successful philosophy of its founder to forecast society in the long term. The company creates a long-term vision every ten years and a mid-term management plan (based on the long-term plan) every three years.
The long-term vision sets a higher resolution of the societal shift but does not include any target numbers or detailed actions. On the contrary, the mid-term plan is the actual business plan presented to stakeholders.
Omron's latest long-term vision, "Shaping the Future 2030", is targeted toward the Autonomous Society stage.
What about the organization itself?
As mentioned earlier, Kazuma Tateishi was passionate about developing a better organization, and even in the 1970s, he made attempts to shift the company into a more decentralized management style. Still, it seems he did not try to apply SINIC Theory to the organization— probably because the theory is more linked to Omron's R&D strategies than any day-to-day operations.
However, this doesn't mean the company is disinterested in the future of work. Omron has had a subsidiary think-tank, Human Renaissance Institute (HRI), since 1990, which explores the future possibilities of society and technology through SINIC Theory. Several years ago, HRI hosted a project to predict a better way of organizing Omron based on SINIC Theory (which I also participated in).
One of the conclusions of the project was the assumption that society is moving towards the Autonomous Society, and therefore management is expected to shift from a style based on Truthfulness to Goodness and Beauty. This comes from the Japanese term Shin-Zen-Bi, an expression that embodies the ideal state of human life in three words.
Goodness and Beauty is intended to lead to the acceptance of more diversity within the organization while also providing more alternative pathways for careers.
For more details about SINIC Theory, feel free to visit Omron's site to learn straight from the source.
This is a guest post by Yuji Yamada, co-founder of r3s.jp, in Japan , aiming to contribute to the future of work in the world from Japan. For more information on Yuji and the company, check out his rebel page.
Written by Yuji Yamada
Written by Yuji Yamada
Co-founder of r3s.jp, aiming to contribute to the future of work in the world from Japan.