Frank van Massenhove: The Man with the Funny Stories and the Silly Shoes
We find ourselves waiting in the only enclosed meeting room of a huge governmental building in the center of Brussels. It's a bright, elongated space. Two long, red couches are facing each other. We take a seat on one of the couches, make a cup of coffee and wait for our bucket list hero to arrive.
Some minutes later a man appears; he must be our hero. He looks definitely not like your typical governmental worker. We great each other and immediately spot the rebelliousness in his eyes. This will be fun..
A fellow rebel
We notice that his presence enlightens the room but we can't particularly point to why. Is it the rebellious look in his eyes? Is it the blue shirt, fully covered with little eyes, which he's wearing? Or the bright blue socks and blue shoes that he proudly shows? We don't know yet, but we now partly understand why the British call him 'the guy with the funny stories and the silly shoes'.

This guy with the silly shoes is Frank van Massenhove, the chairman of the Belgian Federal Office of Social Affairs. We traveled all the way to the Belgian capital to meet up with this rebel. We've heard lots about him and we're excited to meet him in real life. He installs himself comfortably on the other red couch. Immediately, he starts his remarkable story on how he transformed this traditional governmental institution.

When we tell people about our mission to inspire people and organizations to make a change to more happiness and success, we often get the same responses. Disbelief is the one we hear most. Lots of people don't believe that a high degree of freedom for employees leads to better results.

The skepticism is even higher as soon as we talk about increased freedom in governmental or production settings. It's therefore that the story told by Frank is of such high inspirational value. You'll be amazed by the results he achieved by providing his employees with freedom and responsibility.
A rebellious start
It all starts in 2002 when Frank becomes the head of the organization. One of the reasons he gets the job is by fooling his superiors during his job interviews. He knows he won't get the job by telling them that he wants to leave all decisions up to his employees. To make sure he gets the job, he tells them he will lead the organization by control and command (as they want to hear).

In reality, he has completely different ideas about leadership. He wants to introduce extreme amounts of freedom and responsibility to his employees; he trusts them to make better decisions than himself.

He stresses this common hiring mistake by stating that "one of the biggest mistakes we make, is that we hire the wrong managers". By hiring the wrong managers he means that we are looking for managers who take full control and make all decisions. This type of management often feels 'safe', but in reality creates an environment that lacks trust and takes away responsibility and ownership from employees.
The start of a transition
Once he is appointed director of the Federal Office, his first step is to flatten the hierarchical pyramid (He takes these radical steps without informing the outside world, as he doesn't want to lose his new job within the first week). He frankly cuts 3 layers out of 5, leaving only 2 layers of 'hierarchy' at this moment. But he inherits another big problem. The department suffers from extreme unpopularity among the workforce. Nobody wants to work there. Especially young people run away from the dull workplace. In order to attract more young talent, he decides to introduce a few breakthroughs.

Introduce the newest technologies into the daily work. The technologies enable more flexible and sustainable working environments. The office becomes almost entirely paperless and people work when they want and where they want. On a daily basis an average of 150 people is present in the office, out of a total of 1070 employees! People tend to work more on rainy Sundays and less on sunny Wednesdays.
Only 80% of the working hours is filled with prescribed roles and tasks. There is 10% reserved for unforeseen activities and 10% left for innovation projects.
Everyone is encouraged to be innovative and continuously challenge the status quo. He appoints so-called 'Absurdistanen' to focus solely on asking employees where and how they can improve the way they work.
The department evaluates solely on results, not on amount of working hours. It results in the fact that employees are highly efficient while Frank estimates they work an average of only 30 hours a week, as does he.
He continuously stresses the importance of having as few meetings as possible; especially "those horrible recurring meetings".
The undeniable success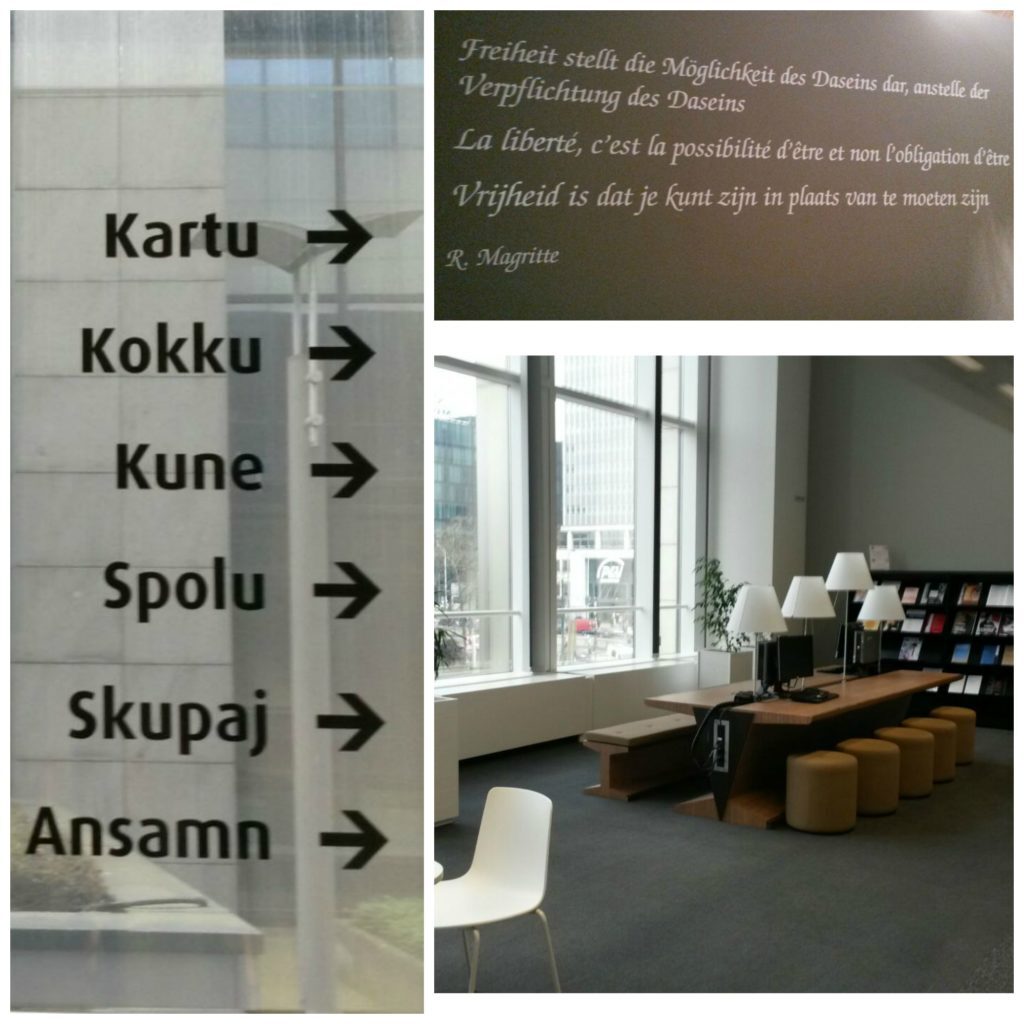 The image on the left shows the names of the meeting spaces. The names translate to "together" in various languages.
The results of Frank's new way of working speak for itself. Employee engagement, productivity, and 'customer' satisfaction have increased tremendously while costs and the number of burnouts have gone down significantly. Additionally, the problem with attracting young talent has been resolved as 93% of the applicants prefer to work for Frank's department (as compared to only 18% back in 2002).

There seems to be a downside to their new way of working as well. Since they've started their transformation, the amount of low-skilled staff has decreased from 30% to only 2%. This is not only due to their changed way of working, and might also come from technological changes in the performed tasks. But their transformation has definitely accelerated the change. It leads to a less diverse workforce and might also increase the social problem of lower-educated people becoming unemployed.

We'll dive into that in more detail in later posts. There's so much more things we've learned that we need a lot more words to cover all of the things we've experienced. Over time we'll be describing more of what we've seen at this revolutionary department. And we'll also dive into why (for god-sake!) there are not more organizations making a similar shift. The attention is growing, but it seems that organizations and its employees are still scared to make the actual change!

So you better stay tuned to find out more on the above!
Written by Joost Minnaar
Written by Joost Minnaar
Co-founder Corporate Rebels. My daily focus is on research, writing, and anything else related to making work more fun.