Introducing... Our Newest Endeavor(!)
Today is an important day in Corporate Rebels history! We are announcing a new product we believe has the potential to radically change the world of work. It will support organizations—big and small—to reinvent how they work in a practical way. Meet... our subscription model.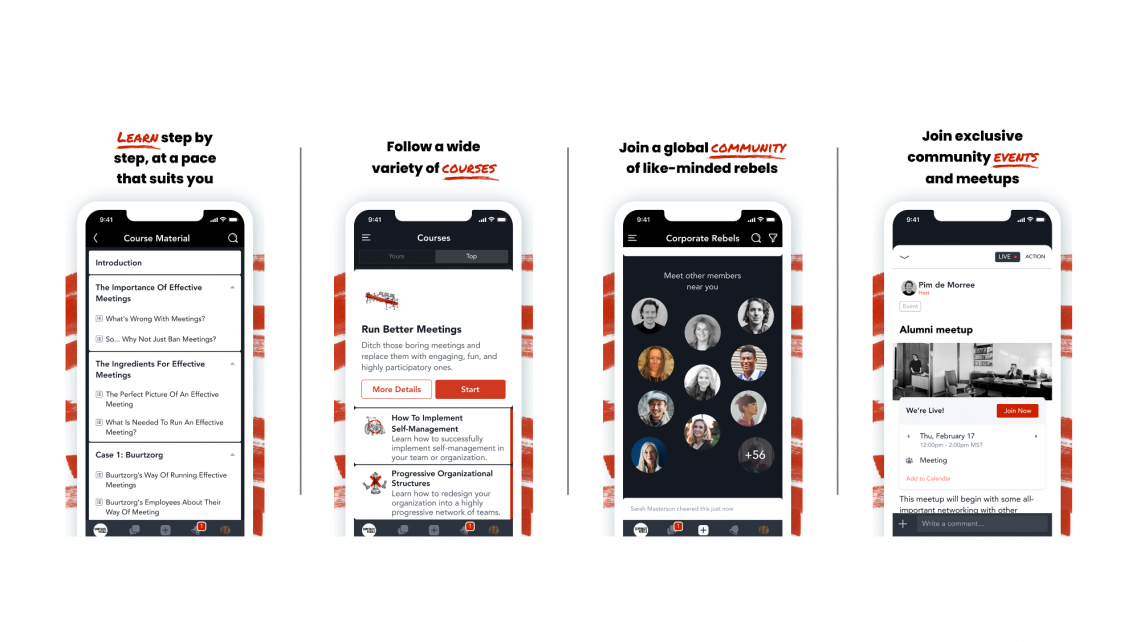 Based on our years of research into over one hundred of the world's most progressive companies (including Spotify, Haier, Patagonia, Buurtzorg, Netflix, and Morning Star), plus professors from renowned universities such as Harvard and IMD, we have thoroughly studied how work can be organized in astoundingly better ways.
This collaborative research has empowered us to compile and highlight the absolutely most successful ways of working.
Last year, we launched the Corporate Rebels Academy—an online learning environment where people learn how to reinvent the way they work. All our courses are very practical and actionable. Plus, they have been co-created with the many pioneers we've visited over the years.
Courses include:
Run Better Meetings
Work with Roles & Responsibilities
Distribute Decision-Making
Give Better Feedback
Implement Result-Based Working
Solve Conflicts Smoothly
Boost Psychological Safety
Successful Transformation Strategies
Lots of in-depth case studies on pioneering organizations
New courses are added on a monthly basis.
Ever since the launch, the Academy has been on fire (in a good way). We've run lots of classes, launched numerous courses, and welcomed hundreds of rebels from all over the world.
But here's the thing: while the first year of the Academy has been a big success, it's now time to shift to the next gear.
A subscription model
Today, we're launching a subscription model to the Corporate Rebels Academy.
The idea is very simple:
Organizations pay a fixed yearly fee. In return, they are granted access:
for all their employees
to all current and future on-demand courses
to all live events, book clubs, meetups, Q&As with pioneers, etc.
plus, access to the global community of fellow rebels and workplace pioneers
By joining the Academy, organizations can directly provide their employees and teams the opportunity to reinvent the way they work—to the benefit of all.
No theoretical nonsense, no band-aids. Just practical, meaningful advice to change the way you work for the better.
No theoretical nonsense, no band-aids. Just practical, meaningful advice to change the way you work for the better.

Click to tweet
One fixed price for everything
Our love for simplicity is reflected in our pricing. We've set up three pricing levels to cater to the needs of small, medium and large organizations. Organizations pay a fixed, annual price for which all their employees gain access to the Academy and its community.
Do you want to learn more about the pricing levels? And would you like to explore the content and the platform in more detail?
Enter your email address in the field below and hit 'subscribe'. I'll then send you the slide deck with more information.
Join the workplace revolution! Let's make work more fun. And more efficient. And more healthy.
Written by Pim de Morree
Written by Pim de Morree
As co-founder of Corporate Rebels I focus on: researching, writing, speaking, and building our company.