Our New Book "Start-up Factory" Is Available NOW
Our brand new book "Start-up Factory" draws on years of painstaking research into one of the world's most pioneering companies of our time. As of today, it is now available all around the world!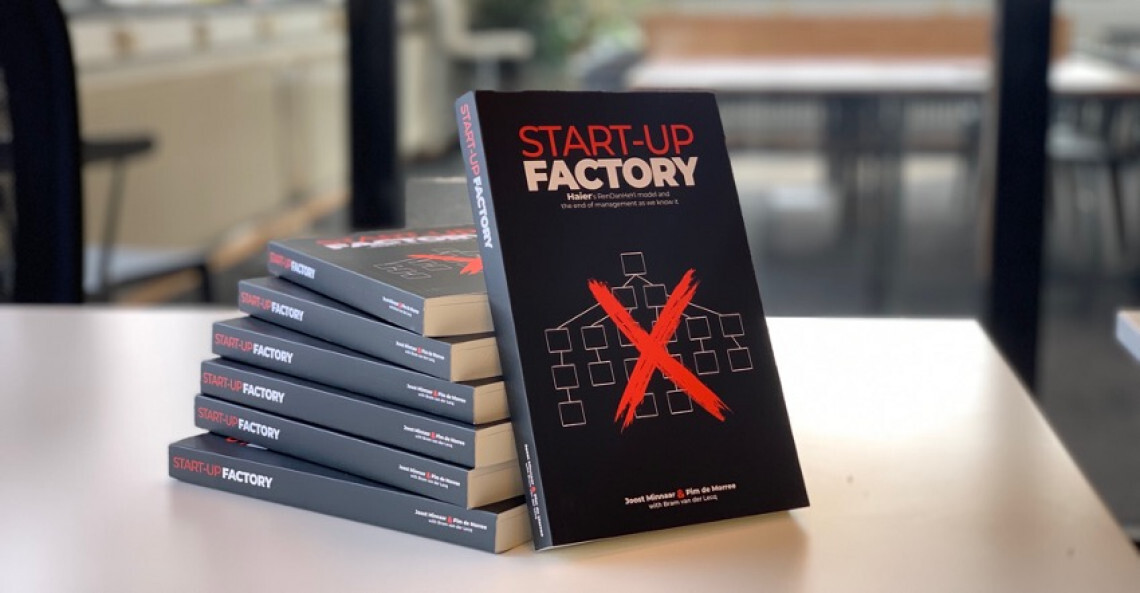 Click here to buy your copy directly.
Haier and the RenDanHeYi model
We first visited Chinese whitegoods manufacturer Haier back in 2017. And that very first visit introduced us to one of the boldest business transformations ever. We learned firsthand about the audacious strategies of a company that has thrown traditional management out the window.
After that first visit, many more followed. We regularly met with Haier's iconic CEO Zhang Ruimin — the revolutionary mind behind the world's largest manufacturer of home appliances.
The end of traditional management as we know it
Haier's unique transformation story resulted in an entrepreneurial nexus that is as organic as a neural network and as nimble as the most dynamic start-up.
The company has continually reinvented itself by busting bureaucracy and shunning top-down management, unleashing the potential of 80,000 highly motivated employees as a result.
Start-up Factory describes the birth and evolution of Haier's RenDanHeYi model and explains how it is now being implemented in companies worldwide. Packed with operational success stories, Start-up Factory lays out the fundamentals and shows how any organization can benefit from RenDanHeYi.
Busting bureaucracy
Check out this short introduction into Haier's unique way of working in this animation video we created:
Buy the book
To purchase the book for just €20, click this link.
For customized and discounted bulk purchases, please send an email to info@corporate-rebels.com.
Enjoy the read! We're entirely confident you'll be inspired by this unique transformation story.
Here's what others say
We're extremely excited about the first reviews of the book. Let me share just a few to give you a sense:
"A delightful book, which has managed to make a complex, and often confusing, story easily understandable." - Bill Fischer, Senior Lecturer at MIT Sloan School of Management
"This is the best management book I've read in our current era. This is the one I recommend my sons read. But that is not why you should read it. You should read it because it describes human values, philosophies and practices that will open new expanded possibilities to you. It is a book about enabling our human potential and creative freedom to change life around us — which we all know is important today. Uniquely, it is a book about doing this yourself, and about doing it across business ecosystems of global scale. It is a book to give your friends, to read in your book club." - James F. Moore, Author of The Death of Competition
"This book is a shining example of what students studying management should absorb and what management in traditional companies should adopt." - Nand Kishore Chaudhary, Founder, Chairman and Managing Director at Jaipur Rugs
A big thank you
A very big thank you goes out to lead author Bram van der Lecq. We know how challenging the entire process has been and admire you for the passion and perseverance you've put into this project.
The same goes for our trusted editors, John Mann and Hal Williams. The way you make any story sing and a pleasure to read is astonishing — and has had enormous positive impact here. Thank you for that.
We are also most grateful to Haier founder Zhang Ruimin for his openness to share and even more so for reinventing management as we know it. You are a true Corporate Rebel.
Many more thanks are in place, but you can read those in the end section of Start-up Factory.
Written by Pim de Morree
Written by Pim de Morree
As co-founder of Corporate Rebels I focus on: researching, writing, speaking, and building our company.