Summer Break! And An Update On Our Plans.
Today's blog post is the last for a while. It's time for our summer publishing break. Similar to last year, I'll use this season's final post to share the cool stuff we'll be working on in the second part of 2022. Here we go!
Running two new cohorts
In September and October we'll be running two new cohorts (numbers 7 & 8 already!) of our 6-week in-depth online course on progressive organizational structures. A summary:
6 weeks of rebellion for about 10 hours / week
Classes of 20 likeminded students
2 live sessions / week
5 in-depth case studies (text, video, animation, assignments)
Weekly Q&As with CEOs and leading people from these progressive organizations
We've learned that this is a great course for people who are looking for in-depth knowledge on progressive organizations and their structures. The NPS (net promotor score) for this course is 78(!) with a completion rate of more than 95% . Attendants are using what they learned in this course to support ongoing transformations at Gucci, SAP, Haier, 3M, Dutch National Police, UKRI and many others.
Or, as one of our alumni puts it: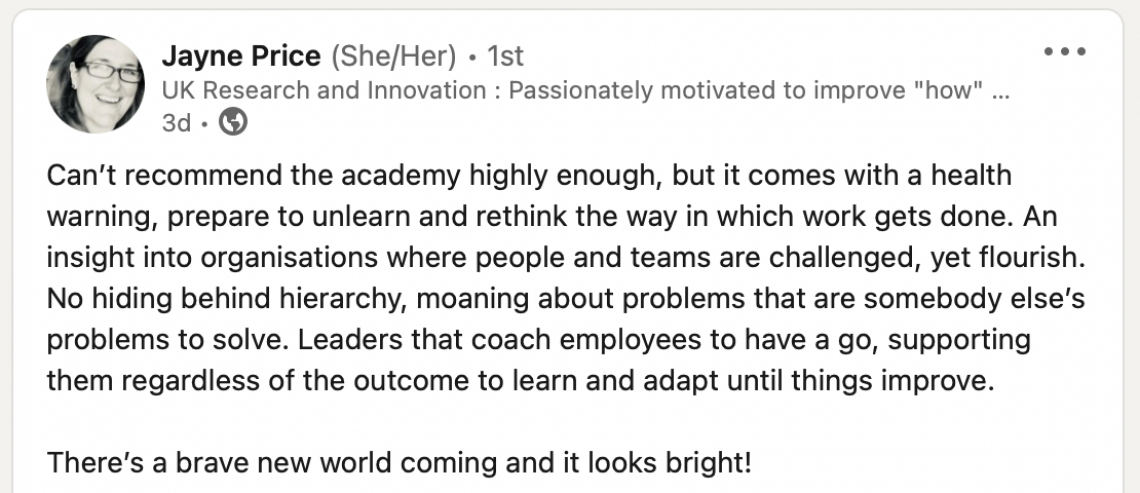 More information can be found here. Or you can apply directly by emailing Pauline and sending her:
Your full name
Company name
Invoice details
We look forward to seeing you in September!
Lots of new courses
We'll be launching many new courses after the summer break. Get ready to dive into topics such as psychological safety, feedback, roles & reponsibilities, transformation strategies or exploring case studies such as Haier, Viisi, Ner Group, Morning Star and P4Q.
Can't wait? Join one of our existing courses now. Here's an overview of the ones you can join directly.
Scaling up the Academy
Recently we announced the Academy subscription model for teams and organizations. For a yearly fee, organizations can boost their skills and knowledge to reinvent the way they work.
We've started onboarding the first organizations and will keep on welcoming more over the next months. As you can imagine, much of our time will be dedicated to signing up more and more organizations to scale up the workplace revolution across the globe.
Exciting times ahead!
Do you want to sign up your team or company to reinvent the way you work? Send me an email (click here) and I'll send you more information.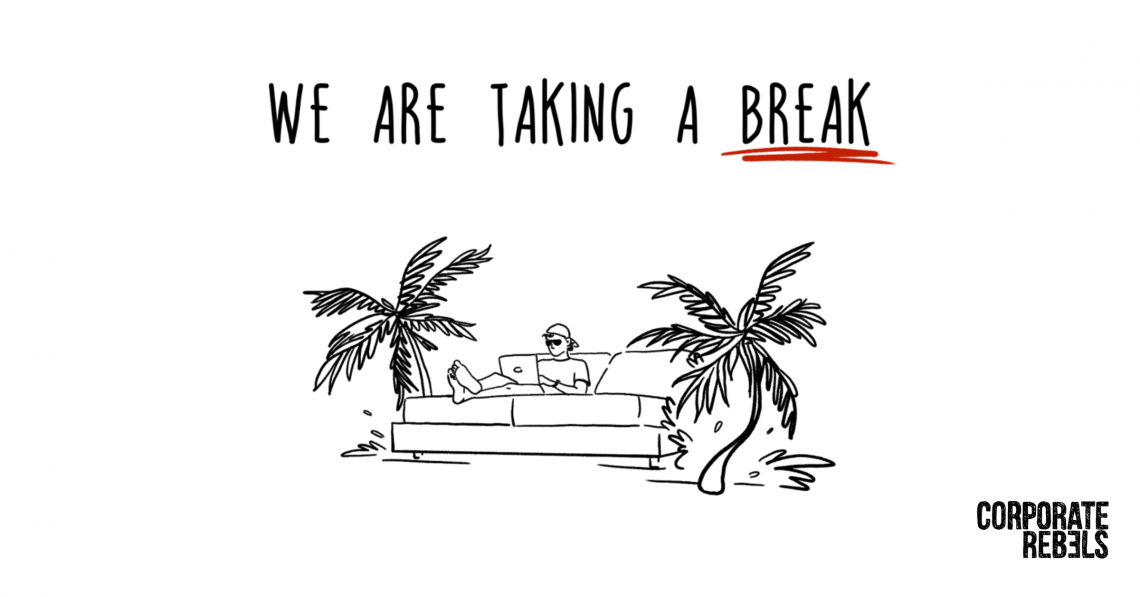 Hiring new team members
Again, we're hiring new team members to expand the Corporate Rebels Academy. One will take on the role of 'community and social lead' - a vital role during the Academy's rapid growth. The main responsibilities will be to:
welcome tens of thousands of new students to the platform;
energize the Academy's global community by organizing pioneering (online) events;
expand, grow and run our social media channels.
Wanna apply for the role of 'community and social lead'? Send an original application to info@corporate-rebels.com and make sure you stand out from the crowd!
The other roles will be announced after the summer period. Stay tuned!
New website
It's time for a new website again! Over the years much has changed and it's time for another big upgrade. We will integrate the blog and the Academy much more into one powerful website. Plus, we'll work on simplifying things and improving the user experience.
All in all, lots of cool new stuff to look forward to!
For now: have a great summer (or winter for those living the upside down life)!
Written by Pim de Morree
Written by Pim de Morree
As co-founder of Corporate Rebels I focus on: researching, writing, speaking, and building our company.