Research Concludes: We Waste Our Time At Work
"[W]e found that employee productivity was 71% higher when meetings were reduced by 40%. Rather than a schedule being the boss, [employees] owned their to-do lists and held themselves accountable, which consequently increased their satisfaction by 52%." But wait, there's more...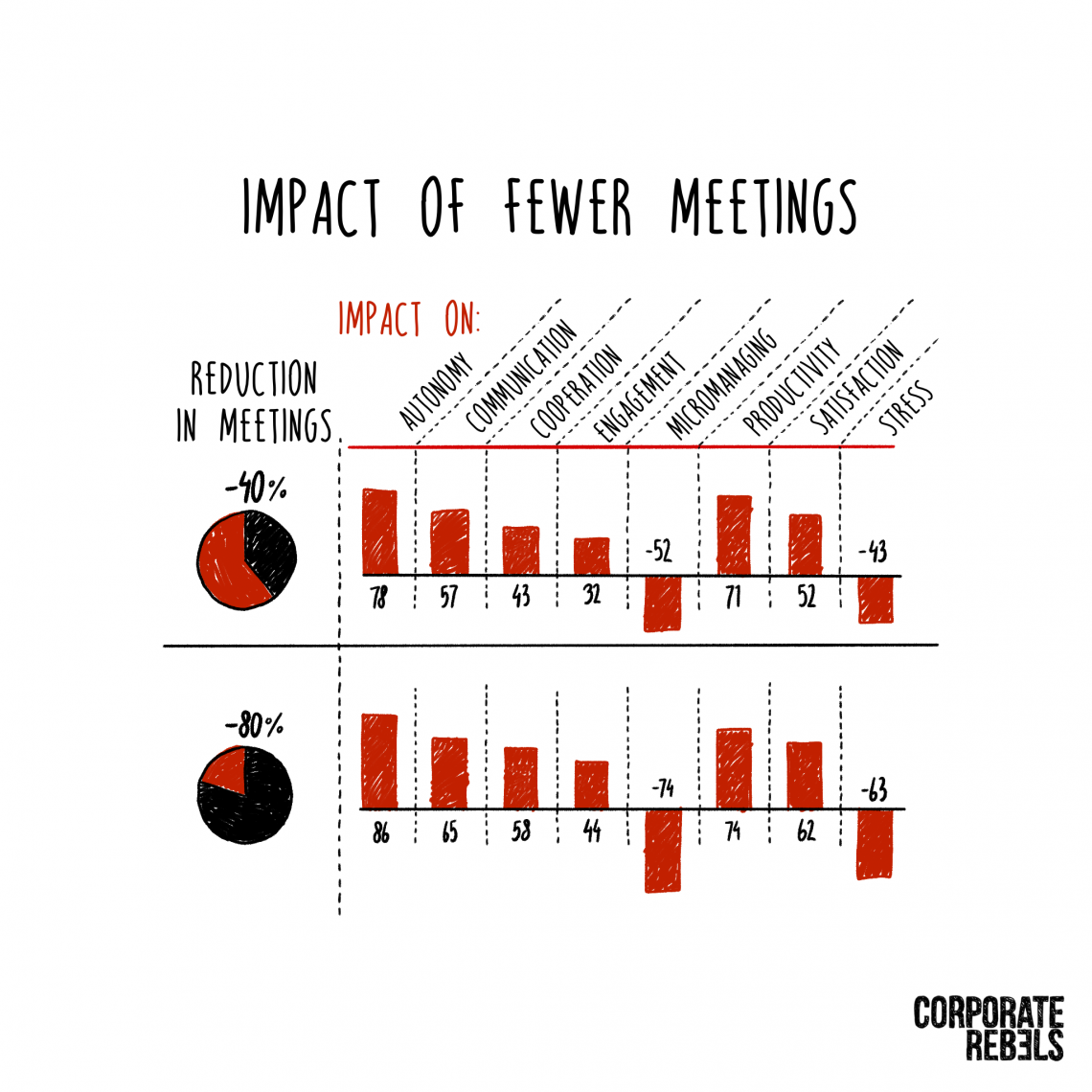 The quote above is taken from a study shared in this HBR article.
When meetings were reduced over the course of 14 months, researchers found that most everything improved significantly. Engagement, autonomy, satisfaction, productivity and cooperation went up, while stress, and micromanagement went down.
Damn. What's not to like?!
Check out the full results of the research conducted among 76 companies that reduced their meetings: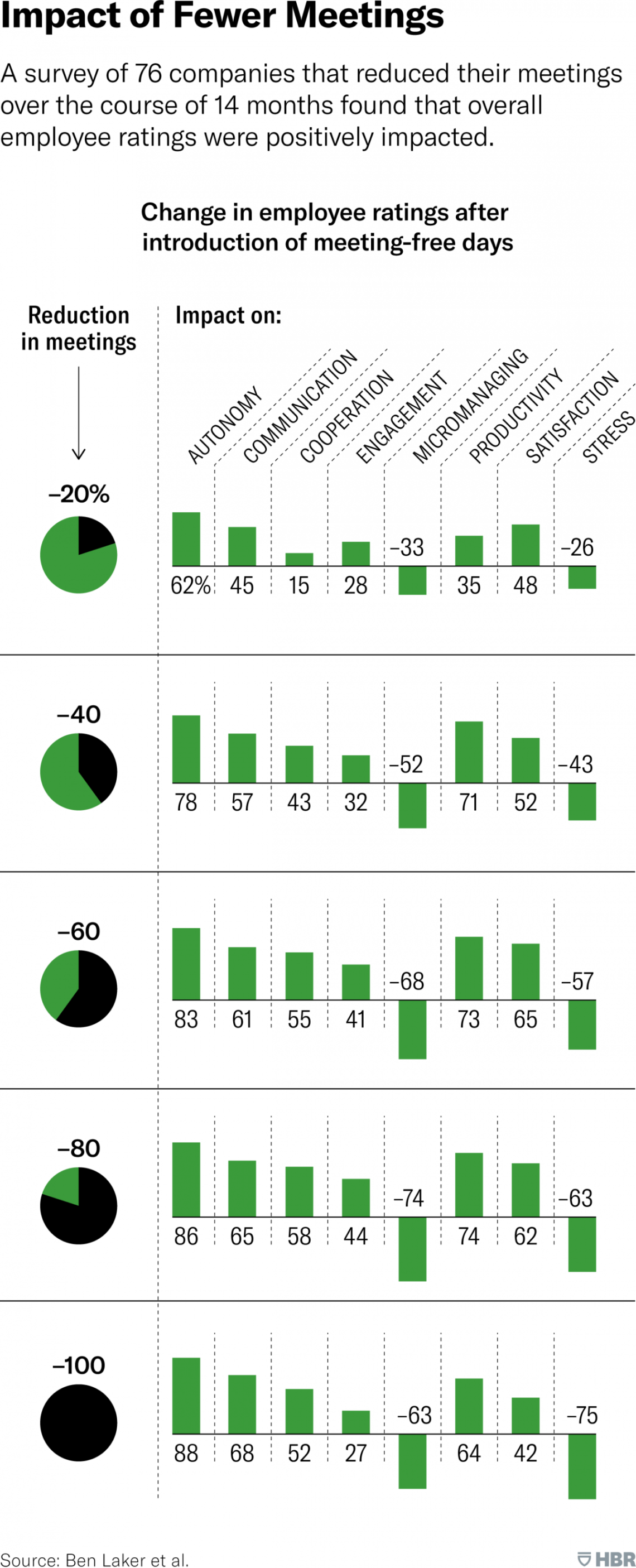 Meeting inflation
While these 76 particular companies focused on having fewer meetings, the vast majority of companies have moved in the opposite direction during the pandemic.
"People have 250 percent more meetings every day than they did before the pandemic," says Mary Czerwinski, research manager of the Human Understanding and Empathy group at Microsoft.
"That means everything else—like coding and email and writing—is being pushed later," Mary continues in this powerful article for The Atlantic.
Apparently, we continue to increase the time we waste on the very meetings that clearly lower productivity, crush engagement, and cause stress levels to skyrocket.
Holy shit, people. That's bad.
What are we doing?
Fewer meetings, please
Luckily, there's a cure—and it's as common sense as you might think: reduce the time you spend in meetings.
Seriously. That's it.
Software giant SAP has recently announced a pilot around meeting-free days. The goal is to give employees more freedom before the weekend. Conferences—and also telephone and video calls—should be dispensed with on Fridays as much as possible.
This helps to provide a largely undisturbed working time for employees on Fridays. Cawa Younosi, the company's Head of People Experience, explains the reasoning:
"We go through the working week at top speed; but what falls by the wayside is the opportunity to work intensively on things, learn new things or take a deep breath during a lunch break."
Lovely move, SAP. Lovely move.
Stop wasting time
Going back to the data shared in the image above, ditching meetings altogether doesn't seem to be a good idea either (although it's still a significant improvement compared to the status quo!).
When meetings are reduced with 100%, engagement, productivity and cooperation are lower compared to a meeting reduction of 80%.
Conclusion: figure out which meetings to keep and which ones to ditch.
Get started with these three valuable tips from successful pioneers:
Create a fixed meeting rhythm for your team and organization, which includes a rigorous selection of truly vital meetings. More tips in Joost's recent article here.
For 99% of your remaining meetings, the magic word is "asynchronous." Get things done asynchronously. Collaborate with colleagues, but let everyone do it in their own time, at their own pace. Use collaboration tools such as Miro, Mural, Basecamp and Slack to make it work.
Boost transparency around who's working on what. Knowing who's working on what helps to foster collaboration without the need for meetings. Create radical transparency around individual goals, team goals, challenges, and team performance.
Good luck getting back your valuable time!
For the 20% of meetings you'll want to keep, we'd strongly advise you to introduce highly effective meeting processes. We've selected some of the most powerful ones in one of our online courses.
Written by Pim de Morree
Written by Pim de Morree
As co-founder of Corporate Rebels I focus on: researching, writing, speaking, and building our company.