A Remuneration Method For Flat Organizations
We often get asked how an employee's career progression and professional development is managed in flat organizations. It's a good question because once you remove the multi-layered hierarchy, you also remove the traditional step-by-step career path of "moving up the ladder." Moreover, this creates a related problem: How do you reward people if you can no longer tie this to someone's formal position in the hierarchy? The Remuneration Diamond concept can solve these problems. This is how it works.
I got familiar with the concept of the Remuneration Diamond while working with leaders of an Australian social care organization. They had recently developed and experimented with the concept during their journey towards a more progressive, self-managing organization.
This is what I learned from them.
"Skills & Capabilities" and "Leadership"
In their quest for a new remuneration method that would better fit their new progressive organizational structure, the leadership of the organization first defined what contribution team members were making, or could make.
The definition of "contribution" arose from some basic principles of job complexity, but more importantly from observation and employee feedback on what "good" looked like in the organization now.
They came up with three different levels in "Skills & Capabilities" (A, B, & C), and three distinct levels in "Leadership" (1, 2, & 3).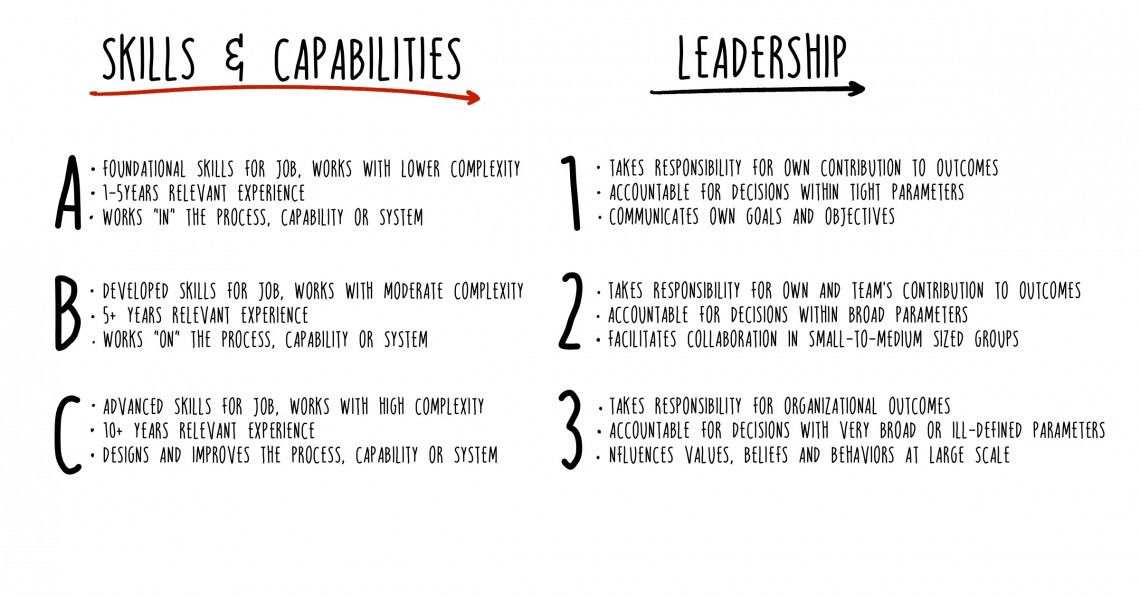 For each distinct level in Skills & Capabilities, they defined a list of criteria that laid out the performance expectations of the respective level.
Level A in Skills & Capabilities
Foundational skills for job, works with lower complexity
1-5 years experience relevant to job
Tertiary/professional qualification not required
Takes advice for tasks beyond transactional/processing
Works "in" the process, capability or system
Level B in Skills & Capabilities
Developed skills for the job, works with moderate complexity
5+ years relevant experience
May have tertiary or professional qualification
Takes advice and guidance to develop more complex solutions
Can work "on" the process, capability or system
Exercises technical insight to advice on decisions or recommendations
Level C in Skills & Capabilities
Advanced skills for the job, works with high complexity
10+ years relevant experience
Most have tertiary or professional qualification
Actively collaborates to develop solutions
Expected to design and improve process, capability or system
Exercises technical judgment to make decisions or recommendations
A similar set of guiding criteria for expected performance was also developed for each respective Leadership level.
1st level in Leadership
Takes responsibility for own contributions to outcomes
Accountable for decisions within tight parameters
Shows self-awareness and responds well to feedback
Communicates own goals and objectives
Cooperates to resolve own conflicts, sometimes with support
Actively seeks to understand customer/community experiences
2nd level in Leadership
Takes responsibility for both their own and the team's contributions to outcomes
Accountable for decisions within broad parameters
Good self-awareness and adaptation to different situations
Facilitates collaboration in small-to-medium groups
Constructively addresses conflict, including between others
Deals with moderate ambiguity
Demonstrates how work affects customers/communities
3rd level in Leadership
Takes responsibility for organizational outcomes
Accountable for decisions with very broad or ill-defined parameters
Demonstrates coaching approach to empower others
Highly adaptive in communication and behavior
Influences values, belief, and behaviors on a large scale
Creates an environment that sustains customer/community outcomes
While the leadership did describe the two dimensions from the top down, it was based on what the leaders had observed and learned from within the organization. They also invited the group to expand on the formal definitions with real life examples.
Note: These are the criteria the Australian organization connected to each level. These are obviously not universal and need to be tailored to each organization.
3x3 = 9 unique scores
The three levels of Skills & Capabilities and the three levels of Leadership were then combined into 9 unique scores as shown in the diamond below: 1A, 1B, 1C, 2A, 2B, 2C, 3A, 3B, and 3C.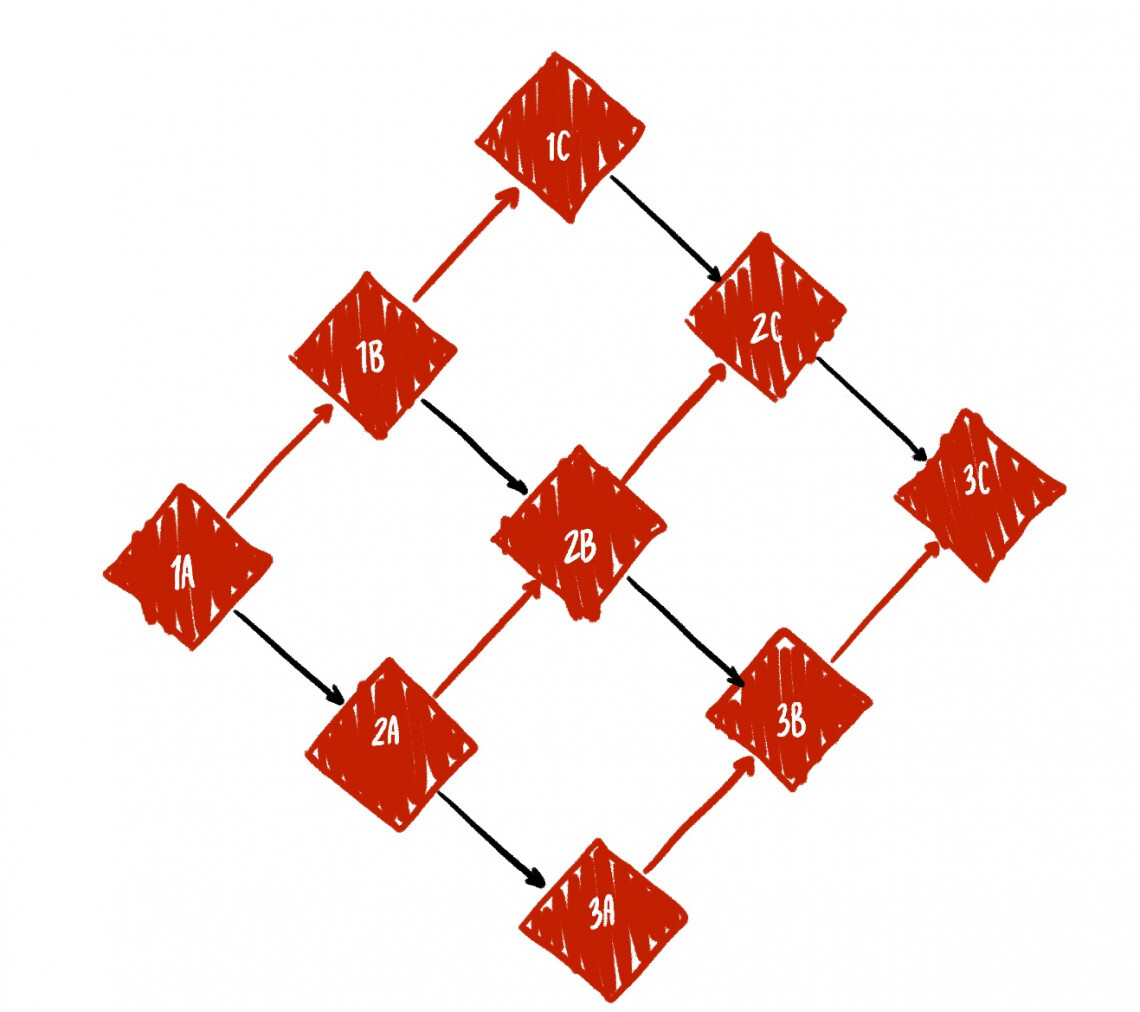 All these different combinations were then coupled to an actual remuneration package. The Australian organization actually grouped certain combinations together and connected them to a certain pay grade.
For example, we could imagine the following grouping with moderate steps in gross salary increment between each step in the diamond (with all salaries being benchmarked with the external market):
1A = €50.000 gross salary
1B, 2A = €65.000 gross salary
1C, 2B, 3A = €90.000 gross salary
2C, 3B = €120.000 gross salary
3C = €200.000 gross salary
Note: These numbers are examples and do not represent the real numbers of the Australian care organization.
Combining all things would make the Remuneration Diamond look something like this: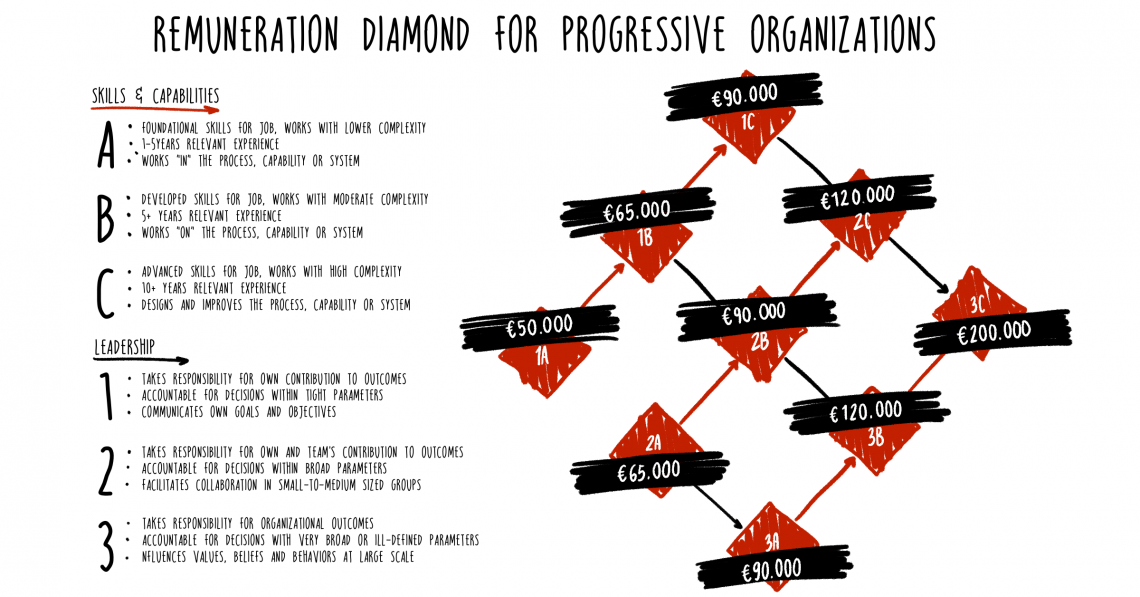 This is how you might use it
So, you now have an Renumeration Diamond. But how can people in flat organizations use it? Or, even better, how might you use it?
It's actually fairly simple and takes just three steps.
Step 1: First, all members of the organization are asked to score their peers on both their Skills & Capabilities and Leadership qualities.
Each member identifies the levels they think fits best with the performance of the peers they evaluate. Members are asked to only score peers they collaborate with on a regular basis.
You can choose to make this first step transparent, depending on what the employees prefer.
Note: You can also decide to start with a small pilot first. The Australian care organizations piloted the diamond only with their back office - less than 10% of their members. Their intention is to now scale it to the rest of the organization.
Step 2: Each member should then receive multiple scores from different peers. All these individual scores are averaged into one score that represents the average view of the performance of that respective employee.
This average score is turned into a remuneration advice for leaders (or a renumeration commission) to evaluate.
Note: The Australian care organization also started this step on a smaller scale. In their case the peer review was done by one peer, a "cell facilitator". Their intention is gather feedback from more peers in the future.
Step 3: The leadership (or a renumeration commission) receives the remuneration advice for each member of the organization, as defined by the peers they collaborate most closely with.
The leadership (or a renumeration commission) checks if everything in the advice makes sense to them, and then turns the advice into the actual remuneration package (as defined by the unique score in the diamond) for that person.
Know your place in the diamond
When all three steps are covered, all members of the organization will know their respective place in the diamond.
This not only provides them with a clear idea of how their peers value their performance, it also gives them with a starting point to begin working on their career progression and personal development.
It is no more complicated than that.
Learn more
Want to learn more about how to optimize your teamwork or organization?
You can learn it all at our Corporate Rebels Academy.
Written by Joost Minnaar
Written by Joost Minnaar
Co-founder Corporate Rebels. My daily focus is on research, writing, and anything else related to making work more fun.