A Radical Change We Don't Regret
Putting employees first, customers second, and shareholders last definitely sounds odd to many when they first see it. That concept was also odd to me—until a transformation project was initiated at my company, Fajar Benua Group in Indonesia.
A few months ago, I went through the Progressive Organization Structure course at the Corporate Rebels Academy. The course was incredibly insightful from start to finish, but one lesson that struck a particular chord with me was the case study on Viisi. The company operates on the principle of "employees first, customers second, and shareholders last."
This was especially surprising to me since most of us know that companies almost always prioritize increasing shareholder value as the primary goal while placing a near-equal emphasis on customer satisfaction.
How we got here
Over the last ten years, I have been quite involved in several transformation projects at my company: implementation of lean systems, changes in structure or reorganization of companies, reformation of vision, mission, and core values, the formation of group holdings, digitalization, development of human resource systems, implementation of performance management systems, and innovation of company products and services—just to name a few.
All of these were done to increase the company's competitiveness in the face of business challenges that also continue to complicate and threaten our existence within the market.
Based on these experiences, I am well aware that every change we make cannot be separated from the role of every employee's commitment and continuous efforts to face every obstacle and realize our company's vision. And while many of our efforts have proven successful, there have been failures we've since converted into learning opportunities.
Considering change
On one occasion, we reviewed our progress and strategy and determined that it all essentially boils down to solving people's problems. We questioned how to improve the business owner mentality—something we see as a fundamental issue to overcome in the quest to be more responsible, creative, and adaptive in the era of volatility, uncertainty, complexity, and ambiguity (VUCA).
At some point, we happened to come across a short piece of writing about Haier acquiring GE Home appliances in the US. We found some small clues on how they were able to pull this off and continue growing using their unique organizational model known as Rendanheyi. Despite our limited knowledge of the Rendanheyi concept, we moved forward and formed a new business unit at the end of 2019.
What was previously the strategic and IT division of our company was converted into a new venture known as HumanTechno, a company engaged in the field of management, people development, and IT consulting—with a particular focus on building custom ERP and integrated business intelligent systems.
We challenged the employees in this venture not only to serve the internal needs of the group but also to take some parts of the potential market that will need the products and services we provide. Keep in mind that this is very different from our core business.
The project obviously became important from a business standpoint, but there were also several differentiations from how we normally do things. We started by sharing the ownership of the company with many of the Human Techno employees in the hopes that they would realize the personal investment and thus fight hard to grow the business.
However, the new venture was slow to take off—the challenge of how to encourage all team members to be actively involved remained a mystery to us, even with the new structure in place. Nevertheless, we continued with the new venture.
Fast forward to the beginning of 2022, when I joined the Corporate Rebels community. While gaining more specific knowledge of progressive organizational models, we decided to use the information to recharge and reorganize HumanTechno.
And while we were eager to bring the new model of change to our entire organization, we remembered from our initial experience that implementing substantial changes, although certainly exciting, does not necessarily guarantee success in the long run. As always, the devil is in the details.
First steps
We started by forming a small group of employees from the cross-division and basing our training on applicable Corporate Rebels case studies. We also re-examined the conditions of the business environment and the context of it concerning our people, Indonesians.
For example, we asked fundamental questions about the implementation of this new progressive organizational model and if it truly fits into our Indonesian culture. Could we actually promote high levels of self-management without a hierarchical structure?
We also referred to the study of Hofstede's cultural dimension theory. The study showed that our culture's power distance score was considered high, which meant we are very much used to hierarchy. This posed a risk of cultural shock. On the other hand, we also considered the competence of our employees to be on the low side of the spectrum, especially regarding the internal financial reports for our company.
We were rightfully concerned if these employees could comprehend financial reports and use them as motivators to increase the company's performance.
The openness of the salary structure was also considered to be very personal and potentially lead to conflict—even if not immediately. So, we contemplated a reward system with several options and formulations to stimulate employees to achieve and even exceed performance targets. This would be done by introducing profit sharing of up to 30% according to the company's performance achievements.
In the end, we examined all the risks and concluded that it was safe enough to try implementing a new management model for Human Techno.
We eventually saw a significant change in performance. The teams became more enthusiastic about carrying out their newfound autonomy.

Click to tweet
Making the case
The next step was to present our final study and basic concept to our CEO and the Fajar Benua Group company owners to get their feedback and approval. It was a success—they were on board. After receiving formal approval, we conducted a general assembly meeting with the HumanTechno team to get their opinion.
We then held a vote on the change and received majority approval (something powerful we learned in the course). The experiment for Human Techno was now officially a go.
(Something I'd like to note: Even though I was the initiator of this project, I am still an executive of our group of companies as the Chief Strategic Officer. I was worried that it would make HumanTechno team members uncomfortable or reluctant to express their opinions, ideas, and thoughts freely, so I stated that I would not be directly involved in the project's next step. However, I would be willing only to coach and provide any advisement if requested.)
Kicking it all off
The final step involved deciding on the roles and responsibilities of each team. A general coordinator was assigned to coordinate the project execution. This person also facilitated basic financial management training for all members and distilled new ways of meeting, learning, and benchmarking— all of which were based on Corporate Rebels Academy case studies.
The team adopted Glassfrog as their digital management tool, using the progressive organization map as the initial guidance for understanding purpose, strategy, principle, organization circles, roles and responsibilities, information sharing, and reward distribution. These were all decided and agreed upon during a governance meeting.
Up and running
Once the project was initiated and seemed to be going smoothly, we opened up opportunities for other departments to make the same changes. Two additional projects soon emulated the progressive model we used with Human Techno.
We eventually saw a significant change in performance. The teams became more enthusiastic about carrying out their newfound autonomy.
They were holding morning briefings, tactical meetings, and governance meetings that resulted in several changes and new agreements, such as different salary models, mutual agreements on new hires, and even the development of new revenue streams that we had not previously even considered.
Above all, there seemed to be a widespread business owner mentality across the organization—something we had always wanted!
Freeing up hours of productivity with new meeting structures. The result? Each employee now has an additional 19 hours of productive time each week. That's a massive difference, right?

Click to tweet
Positive results
Let me share two specific examples of what these changes did for our organization.
Freeing up hours of productivity with new meeting structures
Previously, we spent roughly 23 hours a week (per employee) solely on conducting meetings, such as project coordination, operational meetings, review meetings, etc. Nowadays, we only spend four hours a week per employee. The result? Each employee now has an additional 19 hours of productive time each week. That's a massive difference, right?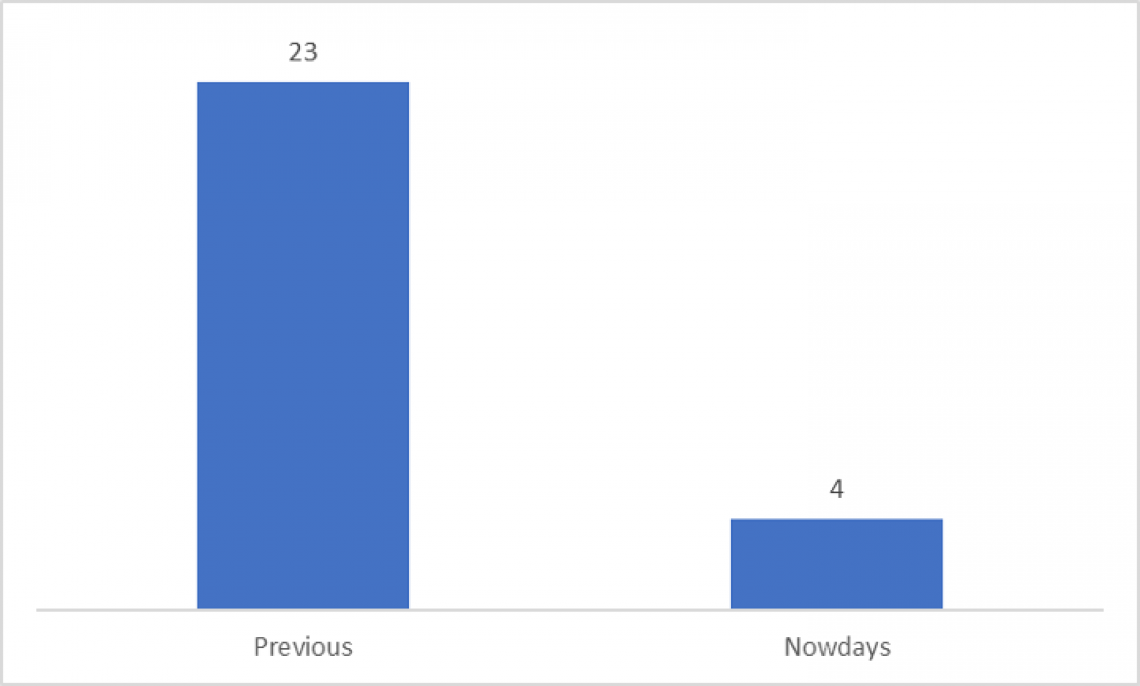 How did we do this? By adopting a new meeting structure for all meetings. No unnecessary discussions, no wasted time. Just right to the point.
If someone does not want to contribute to a meeting or has other priorities, they don't attend. We trust that if someone feels they need to attend the meeting and hopes to contribute to it, they will. It's that simple.
Increasing opportunity, efficiency, and revenue with new roles
Here are some numbers you're probably wondering about. In 2021, our company's revenue only increased 9.5% from previous years. After we changed the organization model, revenue increased by 50%.
We ultimately served our customers with different value propositions and services, which translated into more revenue.
The new model allowed everyone at Human Techno to work directly with our customers, instead of having to work through a senior manager. The structure that enables it, looks like this: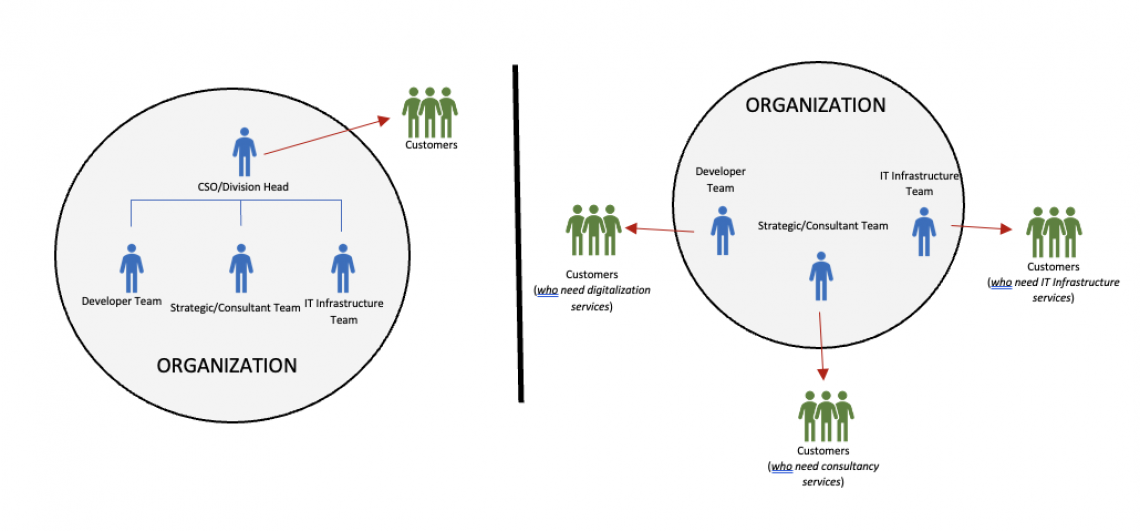 Fully on board
After the changes were implemented and everyone had time to get acclimated, we decided to conduct employee interviews to see how they truly felt about these new systems and projects. They all expressed joy, enthusiasm, and little worry regarding the freedom to choose roles and responsibilities.
And while this newfound freedom made them want to learn new things, they were not derailed from focusing on their main expertise. Perhaps the best part? They were willing to promote and advocate for this new model to other groups of employees.
Despite the relatively short evaluation period thus far, we believe the organization will progressively improve as this new autonomy spreads and creates more confidence and a bigger sense of ownership.
In the end, our firsthand experience has shown us that if we continue to live out the principle of employee first, customer second, and shareholder last, our company will continue to sustain an increase in performance, employee engagement, and overall satisfaction.
Thus, we will continue our journey confidently and embrace the resulting opportunities for new growth that have come as a direct result of our willingness to try something new and radically progressive.
==========================================================
This is a guest post from Pande Kadek Yuda Bakti, Chief Strategic Officer of Fajar Benua Group Indonesia , a Group company of manufacturing located in West Java Indonesia. For more information on Pande and the company, check out his rebel page.
Written by Pande Kadek Yuda Bakti
Written by Pande Kadek Yuda Bakti
I am working as Chief Strategic Officer of Fajar Benua Group, a Group company of manufacturing located in West Java Indonesia. My responsibilities are to design and evaluate corporate performance and strategy.